Did you get my meme-o?
So, somehow someone at work managed to send a routine system failure notification to a mailing list that included everyone who has access to that system. Like 26,000 people. Not a smart career move. I received the notification, saw it wasn't really meant for me, deleted it, and moved on. But there's always people who can't just delete an email (maybe because it took them time to read it, which counts as work, so now they need to let everyone know they are working) and who decided to reply to it. And not just reply, but Reply All. To everyone on the original distribution list. All 26,000 of them. The following are a selection of the actual replies, unedited.
At first people were fairly cordial, if a little quick to admit to their own lack of understanding:
"Not sure why I received this"

"Sorry I have not a clue what this is"

"I AM CLUELESS, I WAS WONDERING WHAT THIS WAS AND WHERE IT CAME FROM!"

"I certainly am unaware of what is going on."

"I don't understand all this mail. It's a mistake. Can you do the necessary please." (I always love emails that ask someone to "do the necessary".)
But within a couple of hours, over a hundred people had replied all to either the original note or one of the other replies, rapidly swamping everyone's inbox (not to mention the mail server – 26,000 people times 100 replies – you do the math!). And of course everyone now wanted to get off the chain:
"Hello. URGENT delete my name from each of your lists"

"URGENT delete my name from each of your lists…I am ready to go to your supervisors, one by one, if necessary"
This last one was a bit excessive. Who's supervisors was he going to go to? All 26,000 of us? Just the people who had 'replied all'? And did he really have the time to go through the Org Chart to figure out everyone's supervisors? Either way, people started to pick up on his attitude, and things started to get a bit heated:
"Would everyone please stop replying to all"

"Guys and Gals, please stop asking to be deleted. Everyone of your requests are now blowing up my email all over again…"

"PLEASE ALL STOP REPLYING TO ALL. THIS IS JUST CLUTTERING EVERYONE'S INBOX. WE ARE ALL VICTIM OF THE SAME ERROR THAT HAPPENED."

"Hello, is there anyone ??? Please do not reply to all … I have 1 million message in my message box" (A slight exaggeration, I think)

"Folks…I don't think replying to all asking people not to reply to all is helping." (Ironically, still sent as a Reply All)
But obviously 'replying all' to tell everyone to not reply all is a little hypocritical, and was met with short shrift:
"DOES ANYBODY READ THE EMAIL THAT SAYS 'SENT TO THE WRONG EMAIL DIST' AND 'DO NOT REPLY TO ALL'"

"O MY GOD!!!!!!! STOP!!!!!!!!!!!!!!!!!!!!!!!!!!!!!!!!!!!!!!!"

"STOOOOOOOOOOOOOOOOOOP…. What is it that people do NOT understand in 'stop replying to ALL' ??"
But, of course, it didn't stop. Not even when the originator of this (a guy called Jan K, who may well no longer be with us by now) fessed up and tried to call an end to it all:
HELLO ALL,
PLEASE IT WAS A MISTAKE. I USED THE WRONG SHARE MAIL BOX.
PLEASE STOP REPLYING TO THIS EMAIL.
THANK YOU AND I APOLOGIZE
To which the only acceptable response (again, Reply All'd to everyone!) was:
WHY JAN, WWWWWWHHHHHHHHYYYYYYYYYYYYYYYYYY????????
At this point we were up to two- or three-hundred replies, and tempers were really starting to get frayed. But then the most remarkable thing happened. In this most straight-laced, conservative, and business-like of companies, where we're all too busy to deal with this shit: the memes started: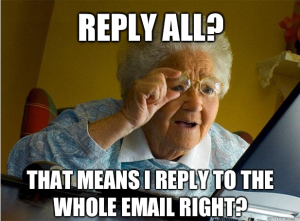 Quickly followed by: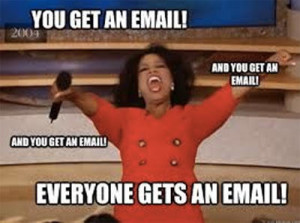 And even: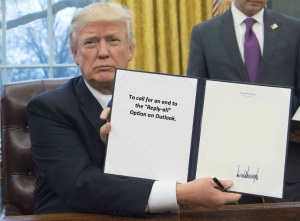 And from then on, it was all just fun and games. People were replying to the increasing number of "Stop!" requests with:
"No problem"

"Keep me"

"PLEASE CONTINUE TO KEEP MY NAME IN THE LIST"

"I was out of town and just wanted to reply to all lol"
And even:
Could someone please add me to this list.
Which of course warranted its own meme: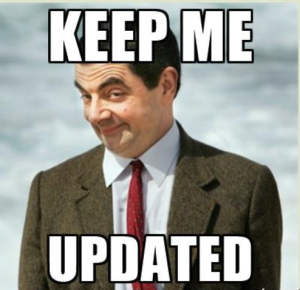 By then people figured that anything goes, like the nerds joining in the cafeteria food fight because everyone else is doing it and they can see the teachers are powerless to stop it, and the reply all's started to get weird:
"Pokemon is life"

"Peanut butter fingers, The BEST."

"Bah weep gra na weep ninni bom" (I'd like to think that last one is Indonesian or something, but I could be wrong)
Seriously! This from grown adults…here, at work…for 26,000 people – including a fair selection of supervisors and managers – to see!
Finally it all got too much for some poor middle-manager:
IF EVERYONE WOULD LITTERALLY STOP ASKING TO BE REMOVED FROM THE EMAIL THEY WILL STOP ….. EVERYONE JUST STOP . DON'T REPLY DON'T ASK TO BE REMOVED JUST STOP! IF EVERYONE STOPS THEN THE EMAILS WILL STOP ….. THE EMAILS WILL STOP IF EVERYONE DOES NOTHING ! DO NOTHING STOP REPLYING I DIONT KNOW HOW MANY TIME I CAN PUT THIS , STOP STOP STOP STOP , JUST DON'T DO ANYTHING AND THIS WILL END ! OK EVERYONE GOT IT YOU ALL UNDERSTAND DON'T DO ANYTHING DON'T SAY OK DON'T SAY SOUNDS GOOD DON'T SAY THANKS JUST DON'T DO ANYTHING AND IT WILL STOP , ONLY IF EVERYONE STOPS . OK HAVE A GOOD WEEK !

P.S STOP DON'T DO IT DON'T REPLY .
P.P.S REALLY DON'T DO IT DON'T REPLY AT ALL NOT EVEN 1 TIME JUST DON'T .
To which some wag, who clearly likes to live dangerously, replied (all):
"OK"
At which point, all that was necessary was one final meme: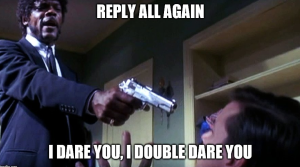 As I left for the day it was still going on, proving that (1) Corporate America does indeed have a sense of humor, and (2) there is no end to the lengths to which some people will go, to avoid doing any actual work. Either way, it made or some much-needed relief from the crushing gloom of yet another dreary Monday in Cubeland.