It's a meditation on the impermanence of everything.
OK, let me explain. During the Glory Years of my Youth (1985-1992) my all-consuming passion was music. I bought (and 'illegally taped' – and it didn't "kill music"!) a lot of music, and went to see bands live as often as my meager finances would allow – or as often as 'decent' bands came through Portsmouth, with the occasional trip farther afield if they didn't – Zappa in Bournemouth, Sonic Youth in London, Everything But The Girl in Reading (yeah, ok…that last one was for my girlfriend at the time – though I do have 3 EBTG albums…). Typically, at gigs, I'd head to the merch stand on the way out and pick up a T-shirt as a souvenir. Because I went to see a lot of bands, I ended up with a lot of T-shirts. T-shirts were cool because they identified you as belonging to a specific 'clan'. You'd know which other people you could safely gravitate towards, and which ones to steer clear of, by the T-shirts they wore (Hawkwind? Cool, hi! Crass? Uh….) T-shirts gave you a conversation starter ("Oh, you like The Cure; have you heard their latest?"). T-shirts from gigs reminded you of a great night out (or long weekend at some mud-sodden festival…) – and they kept you warm – practical, too! They'd also give you something to ruminate over when getting dressed – should you wear your favorite black Sisters of Mercy T-shirt even though it's blazing sunshine outside, or wear the one from the gig you went to last night, and risk one of your friends who went to the same gig with, and you're now about to meet at the pub, turning up in the same T-shirt and you two looking like awkward twins?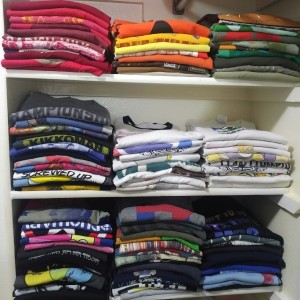 T-shirt choice was especially important when it came to going to gigs. You had to wear something appropriate, but not obvious. So you could wear a Sisters of Mercy T-shirt to a Mission gig (Wayne Hussey being in both bands) – although an All About Eve t-shirt would be ideal (Hussey providing vocals on a couple of tracks on All About Eve's debut album) – but you wouldn't want to wear a Mission T-shirt to a Mission gig. Too obvious. The one exception to this is if it is a really old T-shirt for the same band, so you could prove you were 'into them' long before everyone else. So you could wear a Pornography t-shirt if you went to see The Cure on the Bloodflowers tour, but you wouldn't wear a Bloodflowers T-shirt on the Bloodflowers tour. Unless it is the second date of the tour, and you are merely proving that you are an uberfan who is following them around and picked up the T-shirt on the first night. Although you really don't want to be one of those people who gets to a gig and first thing goes to the merch stand to pick up a T-shirt from that tour and immediately puts it on – over their current T-shirt – at the gig.
Or maybe that was just me, back in the day. Classic overthinker. But this was back when you couldn't really get band T-shirts anywhere but at gigs, or maybe from some dodgy company advertising in the back of Sounds (this being the days before the Internet and print on demand). So if you bought a T-shirt for a band, you were typically pretty invested in that band. Certainly, I'd only have T-shirts of bands that I actively 'supported' – not like these poseur kids today, with their Joy Division Unknown Pleasures T-shirt that they purchased at Hot Topic, when they've probably never heard a damn thing by Joy Division. Or they subscribed to a fricking 'T-shirt Of The Month Club' (yeah, they actually have them – Google it…) and that's this month's 'choice'. Seriously, there should be some kind of a test when you buy a band T-shirt, to see if you should be allowed to wear it. Want that Misfits T-shirt from Target? Fine. Name all at least three of their albums. Want a Nirvana T-shirt? OK, sing any of their songs not on Nevermind and you're allowed to buy it.
Anyway, I digress. T-shirts were a thing back then. And for me I guess they still are – as I refuse to go gently into that dark night and start wearing 'old people' clothes of a polo shirt tucked into a pair of chinos. So I still have around 100 T-shirts (I only know that because my mom took it upon herself to count them last time she visited. [I don't know - ask her...]). I would have a lot more were it not for the reason behind this meandering post (there is a point – I'll get there, I promise…).
So, back in '93, I took my first 'overseas' contract. This was a 4-month contract in Brussels, and as a jobbing contractor at the time (and a homeowner) I thought I'd just do this quick contract in continental Europe, then head back home (to England) at the end of it and go back to looking for local contracts. So when I left for Belgium I literally just locked my front door, and set off with a laptop bag and a holdall with a couple of suits and a few of my favorite T-shirts in it, fully expecting to be back in 4 months to pick up right where I'd left off.
Things didn't really work out that way, though. The 4-month contract got extended – several times – until I had been in Belgium for four years. During the course of which I rarely went back to England, and as a result acquired pretty much a whole new wardrobe in Brussels (including more T-shirts from more gigs…). Then, after four years in Belgium, I got the offer to move to Singapore, so I went back to England long enough to put the entire contents of my house – including most of my T-shirts – into storage and rented out my house, and headed even farther from home. Three years in Singapore later, I moved again – this time to America. A few years into that assignment I had to sell my house in England. My (then) wife went back to take care of the sale and the rest of my ties to England (as I was starting to accept that I'd never go back). This included the storage locker, which she pretty much just emptied into a dumpster – including all of my precious T-shirts. Ones from gigs I'd attended, ones from breweries I'd visited (my other love at the time, courtesy of a membership to CAMRA), and dozens I'd ordered by mail – typically from Barfko Swill (Frank Zappa's merchandising company in America), and T'Mershi Duween (a Sheffield-based, now defunct, Zappa fanzine) – all of which were entirely irreplaceable (unlike her, I later discovered!). Her excuse was: "Well, you haven't worn them in 10 years, so…". FFS! And I was going to make a quilt out of them…
Anyway, now, some 23 years after I first left England, I've obviously managed to build up another sizable T-shirt collection. Not all from gigs (I don't get out as much as I used to) – not even all bands/music-related – but typically graphic tees of some kind or other that I feel strongly about. I'm trying to limit myself to no more than 100 T-shirts at any one time (I know, first world problems…), so when I get a new one, I try to divest of an old one (some of them are 25 years old, and are getting a bit thin and frayed). Because losing all of my old -shirts depressed me so much, I figured that I may as well take pictures of the ones I currently have, for posterity (much like I used to take pictures of my kids…). And I throw these pictures up on Instagram because I don't really use Instagram, but I feel that I should do, because everyone else seems to and I suffer from severe FOMO. (And now I'm on Snapchat because a good friend talked me into it, and I really have no clue what I'm doing there…)
So should you 'follow' me on Instagram (but why would you?) – or see it across the bottom of my blog – and see another picture of some random T-shirt and think "Huh?" just remember that it's not for your benefit – it's for my future benefit, so that when I'm old and senile, and my caregiver has thrown out all of my current T-shirts now that I only ever wear pyjamas, I can scroll back through my Instagram feed, and remember a time when (I thought) I was cool, and actually had a life…